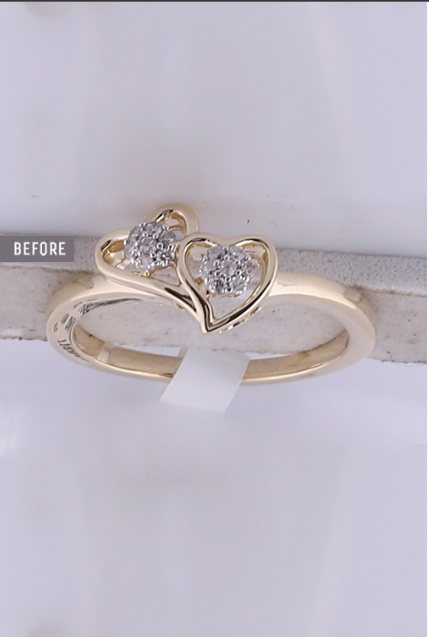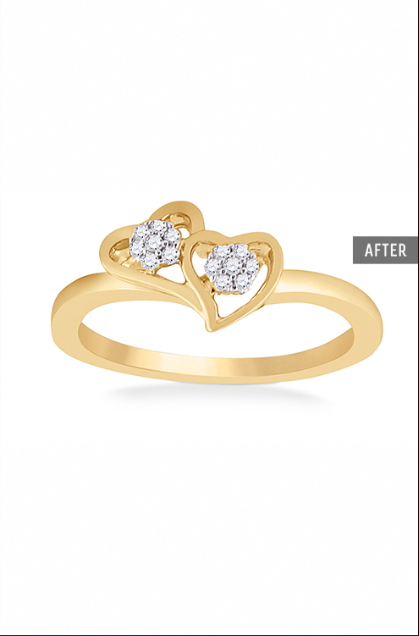 High End Jewelry Retouching Services
Jewelry Retouching is no ordinary photo editing that you can get done with ordinary editing skills. To bring the true color and spark of jewel, you need a complex set of skills with proper know-how of Jem stones and precious metal.
That's where we come in and offer the best jewelry retouching service. We offer you the skill set that helps you stand out from the crowd, and help your customers and visitors see the true sparkling aesthetics of the jewelry.
What Makes Clippingfly Your Best Choice?
Clippingfly can be your best partner to get all your designs and editing done with:
What Includes Into Our Jewelry Retouching Services?
We're offering our Jewelry photo editing and retouching service to help you with:
Professional Jewelry Retouching Samples
Don't take our words for our quality! Have a look at the jewelry retouching jobs we've done already for our clients: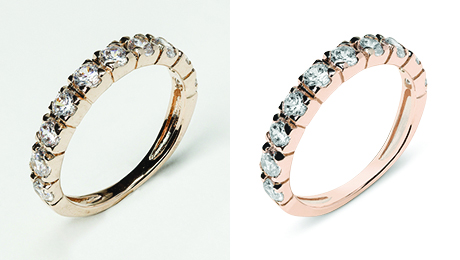 How It Works
Here's the process we undertake when we offer the jewelry retouching service from onboarding to delivering:
Send Over the Criteria
Log into your account and submit all your criteria along with all the images through our live chat in the portal, or by opening a ticket.
We Quote You Back
We will respond to your query, offer up to 5 images for free if you're a new user. We analyze the work, and quote you with a deadline.
Give us the Go Ahead
After getting the quote and doing your math, if you're okay with the price, you give us a go. We don't start the job until you approve.
Get Your Images
We'll work on the project, keep you updated, and deliver them back to you within deadline. Also, we'll notify you over email once done.
Who Can Benefit From Our Jewelry Retouching Service?
Our jewelry retouching service is extremely beneficial for certain types of businesses and individuals like:
1. E-Commerce Businesses
If you own an ecommerce business where you sell jewelry items, our retouching service can be the best thing you've tried in a while. It'll attract your visitors with the urge you want.
2. Jewelry Companies
Our jewelry image retouching service can be your next big move to showcase your jewelry collection. As your visitors do the judgement after seeing the image, you get a higher ROI.
3. Vendors & Store Owners
If you own a jewelry store at a large ecommerce site (Amazon, Ebay, Etsy, etc), we're here to help. Send us over your jewelry images and let us help you stand out in the crowd.
When You Need A Jewelry Retouching Service?
People need to see a jewelry image and people going to buy it. Why bother with a jewelry retouching service then? Well, here's why:
1. To Present Things Better
Your customers decide on a purchase just by looking at the presentation you have on the page. You only land a sale with a sharp, shiny, and nifty image of your jewelry on display.
2. Stand Out In The Crowd
Every single competitor of yours is trying to outdo you, and there are thousands of them. To stand out in the crowd, you need images of your jewelry that stand out from the ordinary.
3. Sharpen Dull Images
Whether you're in the jewelry business, or you just sell them, there's no alternative to having sharp and detailed images of the items. Your dull images can shine bright with retouching.
4. True Color And Tone
Cameras don't capture the true color, or don't separate the bushy subject from the background. Only a pro retouching can bring the true potential of the gems' color and tone.
Get Your Free Quote Now
Contact us now for your free, no-obligation quote.
Our team of advisors will get back to you asap with a free quote and a deadline, we are also
available 24/7 to answer any questions or make changes to an existing order.
Our Testimonial
Satisfied Client Testimonial
''I contacted clipping fly because I needed professional images for my website and couldn't afford a photographer. I sent them images I took myself and honestly, it looks like I had a photoshoot, thanks Clipping Fly!''
''I had an urgent order for images I needed processing for my project. Clipping fly completed them in no time. Was hugely impressed, will order again''
''I initially contacted clipping fly for a small job and I never intended to use a photoshop service again, but what I got back was so good I have started using them regularly!''
Frequently Asked Questions
Got some questions about our services in mind? Here we've answered some, to keep you ahead:
What image formats do you accept?
We accept all sorts of usual image formats when you're submitting them. You can send us JPG, PNG images or editable formats of PSD, EPS, AI, TIFF, and all the other formats that are popular internationally.
How much does it cost to retouch Jewelry Images?
We have a highly competitive pricing for Jewelry image editing services starting at only $0.50 per image, all the way up to $10 an image. This depends on which jewelry retouching service you're getting from us and the amount of work that goes in. We also offer 5 image retouching for free for our new customers as an on-boarding bonus.
What Payment Methods Do You Accept?
We accept all the major payment systems like PayPal, Payoneer. You can pay us with the major credit and debit cards like Mastercard, Visa, Discover, American Express, etc. for our image retouching services. All your payments go through a highly secure process where your data is safe and secure.
Do You Recolor Gold and Silver Jewelry?
Yes, we do recolor jewelry colors and swap out one for another. You can have us make variations of a jewelry in different colors without capturing each separately. We will recolor the image, make fine adjustments to it, and highlight the gemstones and other important art works for a better presentation.