You can master how to resize photo in Picasa in just few minutes with the information contained in this guide. Yes, editing photos in Picasa is an easy skill to master and one you will find handy once you know how to use it. Before providing insights about how to go about how to resize photos in Picasa, it is only essential to discuss the basics.
First of all, Picasa is a popular photo viewing app and organizer created by Google. The product was originally developed by Lifescape which was ideally generated by idealab and launched in October 2002. Google later purchased Picasa from its founder in 2004. Picasa is coined from the combination of two words "mi casa" which means my house and "pic" for pictures, was founded by a Spanish painter Pablo Picasso.
Do you need a professional image resizing service? Clippingfly would be the best option for you. Check out our service page for more info on photo resizing.
Although this freeware tool caters for a wide of photo editing functions, it represents an excellent solution when it comes to multiple photos editing and resizing at once.
As stated earlier, Picasa is a free photo application from Google that enables you to manage, organize, filter and edit all of the pictures you have saved on your computer device. Asides from being able to manage pictures, Picasa makes it possible to carry out modifications giving plenty of options for sharing them while using it. It permits photo sharing through photo CDS and other Picasa users.
How Does Picasa Work?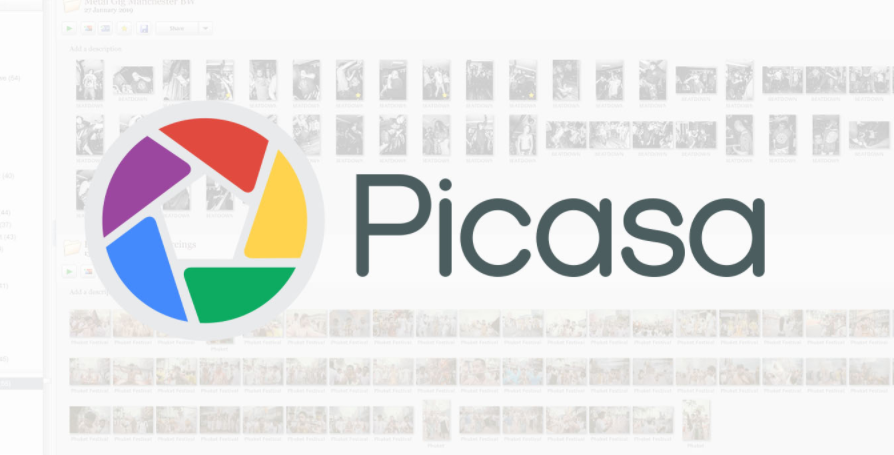 You are to download and install the Picasa application, after which it automatically locates photos on your PC by scanning through your storage devices and moves them to Picasa. Picasa then allows you to edit the photos, compile, filter, andarrange the pictures in albums making it easy to share photos online. Picasa makes it possible for users to be able to store photos in up to a 1 GB free I cloud storage space, and/or print hard copies.
Basic Features of Picasa
Organization: This contains file importing and search features, markers or captions, facial recognition, and an array of extra sorting.
Editing: this incorporates color and pigment enhancement, red-eye reduction, and resizing
Keyword: Picasa utilizes picasa.ini to track keywords for everyphotoandaddsan information technology model (IPTC) for all such keywords inJPEG files.
Searching: Picasa has a search bar that is eternallynoticeable when viewing the library.
Viewing: Picasa has a correction view and full-screen viewing section
Back-up:modifications to pictures in Picasa overwrite the actual file, but a backup version is maintained in the originals folder in the same folder as the actual picture.
Picasa is considered user-friendly by many users because of its usefulness in movie-making.
How to Resize Your Photos With Picasa?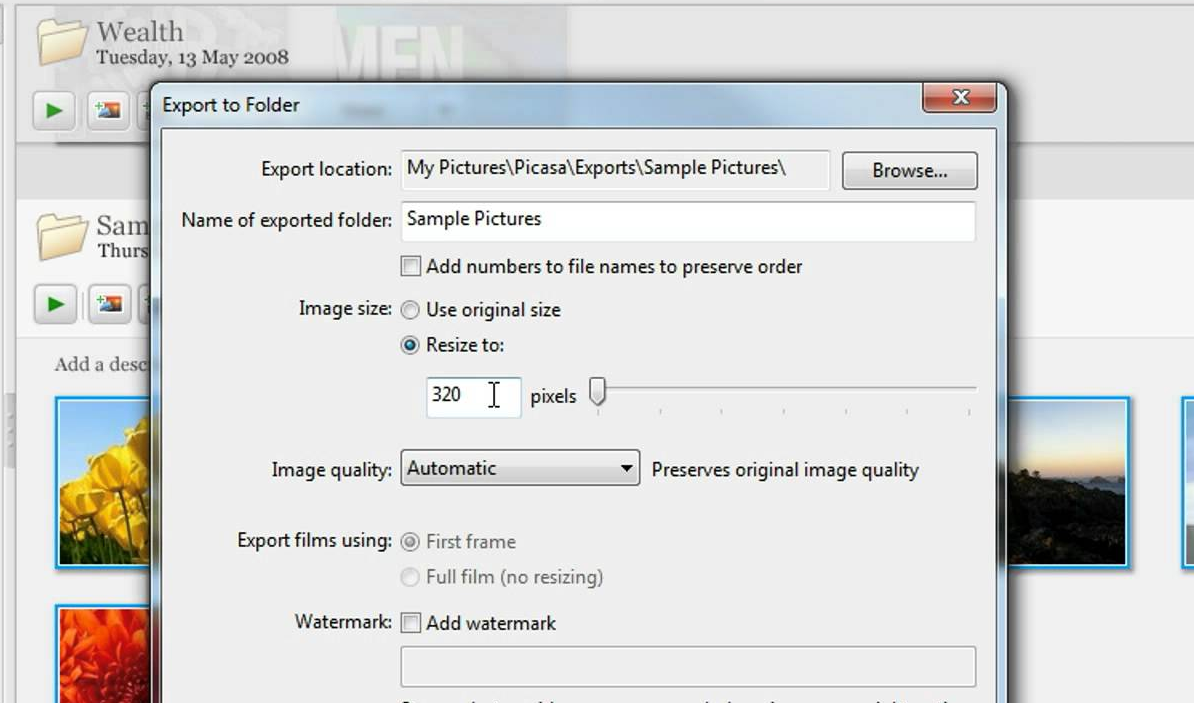 Exporting
To use Picasa in resizing photos, click on "Export" to gain access to "Export to Folder". Make sure you click on the icon named "Resize To"; this icon controls the image size for photos. It grants easy access to the appropriate image sizes as well. To achieve the image size of your desire, simply type the preferred number into the field on the left of the slider. Regardless of the method chosen to determine the size of the image, the number selected will be applied as the photo size of pictures longest dimension, be it the width or height. The other figures will become set automatically to keep the photo's initial aspect ratio.
Step by Step Guide: How to Resize Your Photos in Picasa by Exporting
Step #1 – Download Picasa on your device
Step #2 – Find your desired image and hit the Export button.
Step #3 – Choose the Resize button that's located beneath 'Image Size Options' and indicate how you want the slider settings to be.
Note, the pixels settings from the slider controls also affects the overall height and length of your photo, while the remaining measurement is automatically fixed to keep the original aspect ratio.
Step #4 – Choose the image quality you desire through the Image Quality drop-down menu:
Look out for the following:
'Automatic' helps in preserving the initial quality of the image
'Normal' maintains size and quality
'Maximum'helps in preserving details for files that are large
'Minimum' ensures minimal loss in quality for smaller files.
'Custom' grants access to choose options.
This program is also resourceful in creating effects, cropping and editing.
Cropping
To use the crop form to resize photos in Picasa, first open the image in the editing window by double-clicking on it in the lightbox, then choose the basic fixes, and then click on the crop button. Simply choose a preset ratio or select manual. Once this is done, you may then select the desired photo and create a bounding box. Note, the section of the image that will be cropped will appear grayed.
Once you have drawn your bounding box, you can click on the preview to see a preview of the cropped image. Once the result is satisfactory, proceed to cropping by clicking on apply.
Uploading
If you want to upload an entire album to resize using Picasa, choose between maintaining it's original size and adjusting its largest proportions to either 800, 1024, or 1600 pixels.
Photos that have dimensions set at 800 pixels or lesser are not measured against storage limits. Larger ones are.
Emailing
Select "Tools" to apply email to resize photos. From there, click on "Options" after which you are to hit the "Email" button. Choose the slider settings to set your editing preference when sending multiple photos at the same time. The slider sets varying sizes ranging from 160 to 1600 pixels. You may also indicate if you want Picasa to resize the emailed pictures individually to match the selected size with the slider or maintain the photos with their original sizes.
Step by Step Guide to Resize Photos in Picasa by Emailing
Step #1 – Download, install and open Picasa.
Step #2 – Click "Options" to open the options dialog box.
Step #3 – Click the tab tagged"Email" to open an email options menu.
Step #4 – Select your preferred slider settings for multiple images. For single image, check the radio box tab right next to the desired size. Hit the "Ok" tab to save the settings.
Step #5 – Select the folder that contains the image you desire to resize.
Step #6 – Click the "File" option on the top menu.
Step #7 – Select the "Email" menu to send as email.
Step #8 – Then send the resized photo to the recipient.
Conclusion
This guide helps to know how to resize photos in Picasa. If you follow the guidelines contained in this review, you won't have challenge editing photos with Picasa. Contact us if you need image crop and resizing service.