Have you downloaded an image from a free stock website only to see watermarks all around it? Or maybe you have lost your original pictures, and the available ones are showing watermarks on them. Are you wondering if it's possible to remove watermarks from an image without paying over $45 for the original copy?
The answer is simply yes; it is possible. Whether you're using a laptop, iPhone, or android, you can remove any unwanted text, date, logo, and watermark from your image. In this article, we have explained how to remove a watermark from a photo on iPhone. So, if you're ready, read on.
Are you looking for a professional watermark removal service? The best option for you would be Clippingfly. You can find out more about our watermark removal service by visiting our service page.
What Is A Watermark?
A watermark is a semi-transparent image, text, logo, icon that covers a part or all-around a picture. Photographers, content creators, or journalists use watermarks to declare their ownership of pictures and videos. These creators use watermarks for advertising their skills and for receiving credits for their work. Also, having a watermark is another means of declaring that a given image or video is enlisted under the copyright of the creator.
Is It Legal To Remove Watermarks From Images?
You might be asking if removing watermarks is a legal action. In general, no, it's not. There's, in fact, a ban by The Digital Millennium Copyright Act (DMCA) bill passed in the year 1998 as an amendment of the Copyright Act of 1976. Amongst the changes made, the bill declared anyone making an authorized edit to copyrighted information guilty of the law.
Howbeit, there are three exceptions to which the edits are legal. At first, either you have permission from the owner to make changes or currently own the information. Secondly, the copyright of a picture or image is in a legally gray area. Then thirdly, you have a fair or legal reason for making edits to the copyrighted information.
So, if you possess legal rights to edit any digital copyrighted information, and you desire to remove watermarks from a picture using your iPhone, read on.
How To Remove A Watermark From A Photo On iPhone?
Removing a watermark from a photo can be quite stressful if you don't know how to. You may have even tried doing so before and gotten frustrated. However, don't be discouraged; this section will guide you on how to remove a watermark from a photo on iPhone.
Here is a list of applications that you can use:
Touchretouch
Photo Retouch
Pics Arts
Pixlr
iWatermark
Inpaint
Let us look at how to remove the watermarks from images using one of the apps from the above list.
1. TouchRetouch
ToucRetouchis an iOS software application that provides you everything needful to effectively eradicate any unwanted object from your iOS photos. For a start, you need to download the TouchRetouch app from your iPhone's App Store.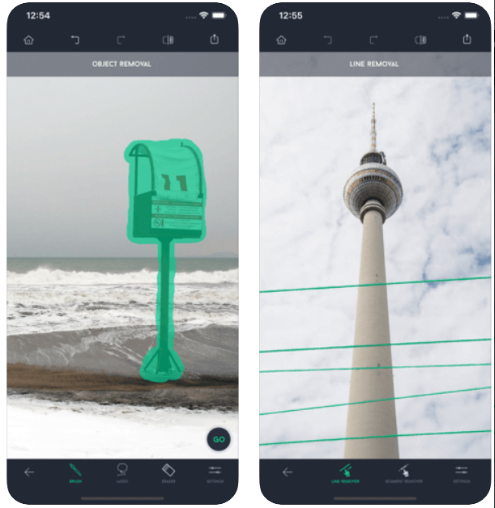 Open the TouchRetouch app on your phone after downloading. In the Home Screen, select Album, then browse through Camera Roll and choose the photo you want to edit. There are various ways to remove watermarks from any image, but we'd teach you using the Brush and Lasso internal tools in this article.
2. Using the Brush to Remove Watermarks
Once you have selected the picture you want to edit, choose the Object Removal feature, and then click on Brush. Then, brush over the desired area of correction on the screen with your finger. After that, click the GO button to erase the desired area from your picture.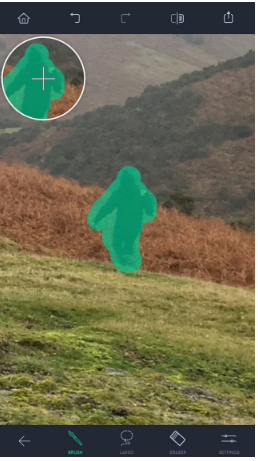 3. Lasso Tool to Remove Watermarks
The Lasso tool functions differently from the Brush feature. You will find the Lasso tool located beside Brush. Using Lasso, you will be able to make a selection seamlessly. It is a freehand selection tool that enables you to drag freely across the screen to mark the areas you want to edit. After you have drawn your selection around the watermark, then tap on the GO button.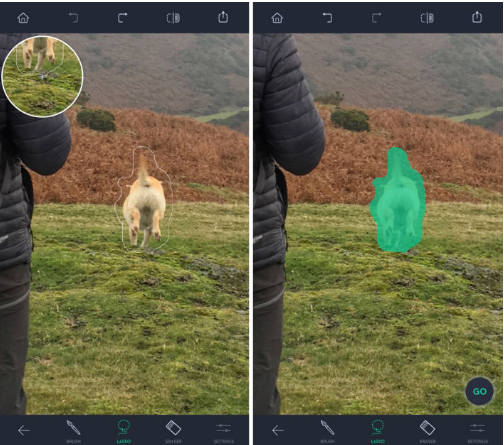 By clicking on the Save button, your phone will save the picture automatically to your Camera Roll.
4. Using the Quick Repair
You can also make use of the Quick Repair tool to eradicate images, texts, and logo watermarks from your pictures. All you have to do is to mark the area you want to erase within the photo; once you remove your finger from the screen, the area will be removed.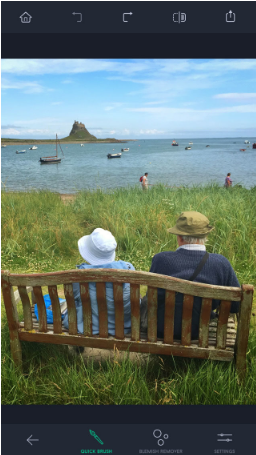 By tapping the Quick Remover Tool, you can either utilize the Quick Brush or Blemish Remover tool.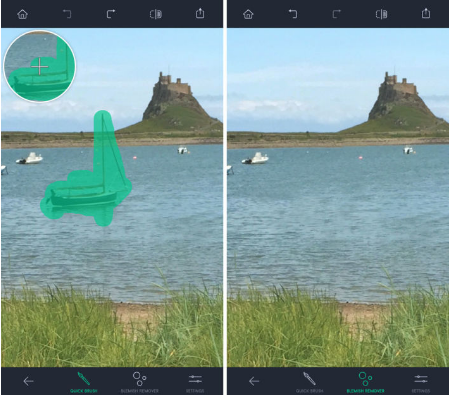 The Quick Brush is a great choice for eradicating tiny objects and obstructions. So, if the watermark is much smaller, you can use this tool to remove it. You can zoom in easily in the image and select the watermark. Once selected, the area becomes green, and then you can clean it off.
The Blemish Remover tool is ideal in working on portrait images. Using this tool, you can adjust the size of the brush, then tap on the selected area—in this sense, the watermark—to remove it immediately. By tapping on the watermark, it will be removed easily.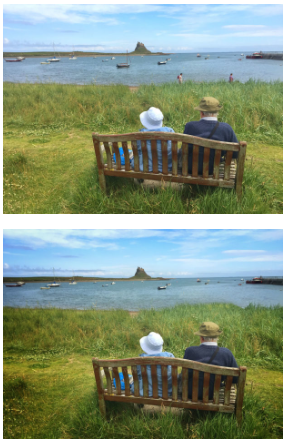 5. The Line Removal Tool
The Line Removal tool is effective for removing unwanted linear objects like long straight texts, linear particles on your image.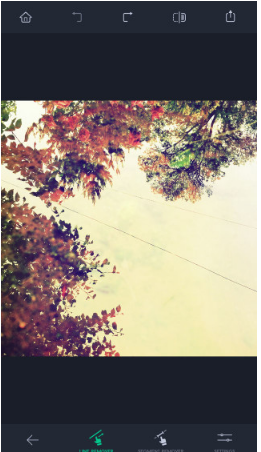 To use this tool, click on the Line Remover button, then trace along the segment with your finger. Once you release your finger, the software will eradicate the entire line.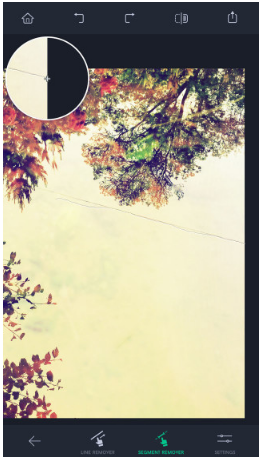 Also, understand that getting the best results with this tool can be more difficult, and it is ideal with high contrast linear objects.
6. Clone Stamp Tool
This tool lets you duplicate pixels from one part of the image and paste it into the desired area. This feature is ideal for copying objects and fixing defects in areas you've erased.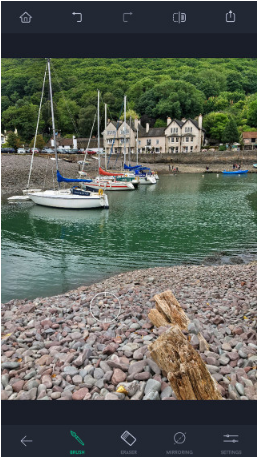 To use this feature, click on the Clone Stamp Tool, then select Brush. You can adjust the brush size, opacity or hardness, etc., simply by selecting the settings button on the bottom right part of the screen. Once you're set, tap on the part of the image where you want to be the source point for the pixels you want to duplicate.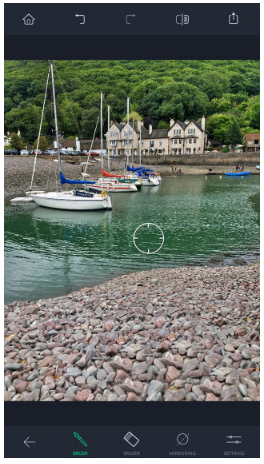 After that, use your finger to rub against the part of the image where you want to replace (in this case, the watermarked area). while brushing over the correction region, you will see a circle or "loupe" at the top left part of the screen to give you visuals of what you are correcting
Conclusion
Removing unwanted watermarks from an image gives a certain satisfaction, and you can also do it seamlessly. That's why this article focused on how to remove a watermark from a photo on iPhone. Thankfully, there are many apps to use for the process.
Among the numerous list of apps that you can use to do this is TouchRetouch—a $1.99 app that helps you eradicate unwanted objects from your pictures. There are four main features of the TouchRetouch app, and you can use any of them you prefer. Also, you can get professional services to remove watermarks from images.