There were times when professional image background removal services were abundant. But now, you can do it all by yourself without having any prior experience or skills.
From AI-powered online tools to Smartphones apps, they all have the ability to remove image background efficiently. And guess what, you wouldn't even need to spend hours to make it perfect. These tools will automatically do it within seconds.
If you are looking for an affordable image background removal service, click the following service.
However, not all the tools or software have the same accuracy and advancement. In this article, I will walk you through some of the best background image remover software online, and for PC, iOS, and Android. Let's get to it.
Best Background Image Remover Software Online
Let's start with some AI-powered online software that automatically removes your image's background.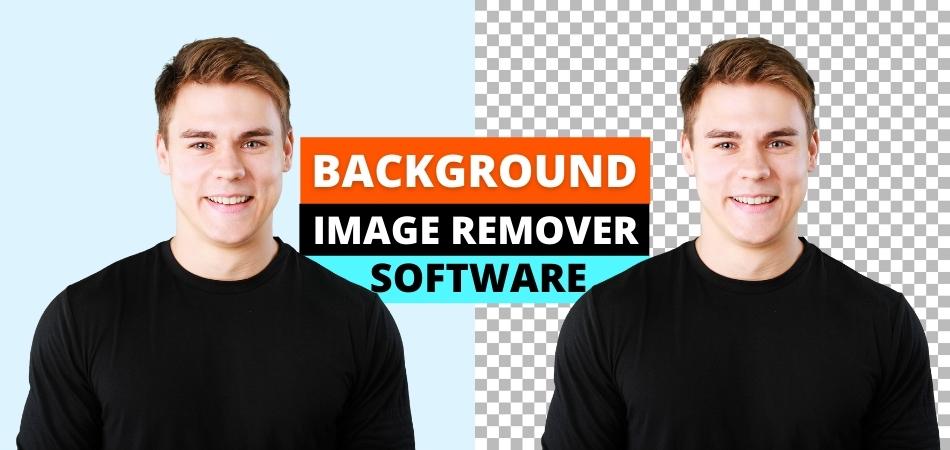 1. Remove.bg
Remove.bg is one of the first AI-powered background removers online. It has the top-notch ability to detect the background of any image. You don't even need an account to do the job. Just head over to their website, drag and drop the image you want to edit and wait for a few seconds!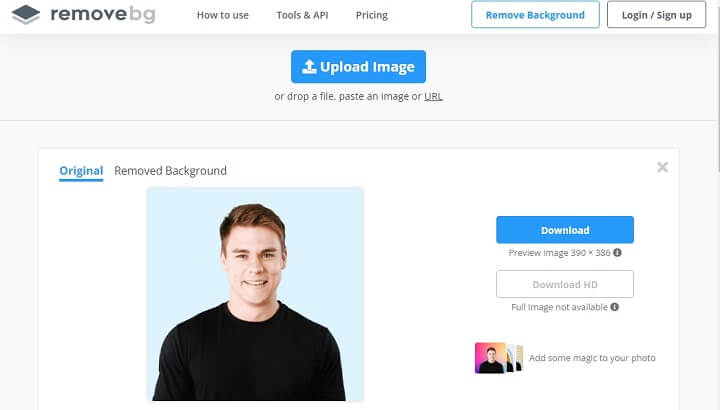 Once the job is done, you can easily download the image on your device in PNG format. It also has some basic editing features.
Once you remove the background, you can add a beautiful scene in your background from its built-in list.
They have hundreds of eye-catching backgrounds that will make your image outstanding. Besides, you can set any color as a background as you wish. It's helpful when you want an official image to be printed out in a recommended background color.
2. Removal.ai
If you want to remove the background and do some editing with your photo, then removal.ai is there for you. It has some advanced editing features for your convenience.
You can adjust the image's brightness, opacity, contrast, and noise. Besides, you can resize the image for built-in resolution such as Facebook cover, Facebook profile, and so on. They also offer you custom resize of the images.
It has better features than Remove.bg, but I placed it in 2nd position because the tool doesn't allow you to download more than 1 HD image (in a single calendar month) with the free account. You have to buy their plans to download more images in HD resolution.
3. Clipping Magic
Clipping Magic is another AI-powered background remover software that expeditiously removes the background. Unlike all other software, it has different tools such as scalpel, hair tools, keep, and remove to retouch your image manually.
You have the option to adjust the color of your images and make the necessary corrections. However, it doesn't have any free download option other than the preview. You have to buy their plans to use. The plans started from $2.49, and that will allow you to edit and download 15 images.
Key Features:
AI-Powered
Easy Upload
Ai-powered processing
Manual retouch
4. AutoClipping
Do you like simplicity? If yes, then AutoClipping is your gem. It has a pretty straightforward process to erase the background. Drag and drop your image or upload it from the directory, and AutoClipping will start processing it right away.
You don't need to put extra effort to work in the background. And the best part is, Autoclipping doesn't charge you a dime! It all comes for free. However, remember that it doesn't have any editing options.
5. Photopea
Photopea doesn't only erase the background but also does advanced editing. It supports almost all the image files, including jpeg, png, SVG, TIFF, GIF, and DDS. On top of that, it also allows uploading PSD, AI, XD, PDF, XCF, and Sketch files.
Sounds fun, right? But that's not all!
You can even resize any of your images here with ease. Moreover, you can also do some advanced graphic design with their built-in template. So the possibilities are limitless considering all the features comes free of cost.
Best Background Image Remover Software for Windows
If you want to remove background images offline and do it more often, it's best to install background remover software on your PC.
1. Apowersoft Background Eraser
Apowersoft is a Hong Kong-based tech company producing different software for years. Their background eraser software is one of the most popular erasers out there. They developed different versions of the background eraser, including, Online version, Windows, iOS, and Android.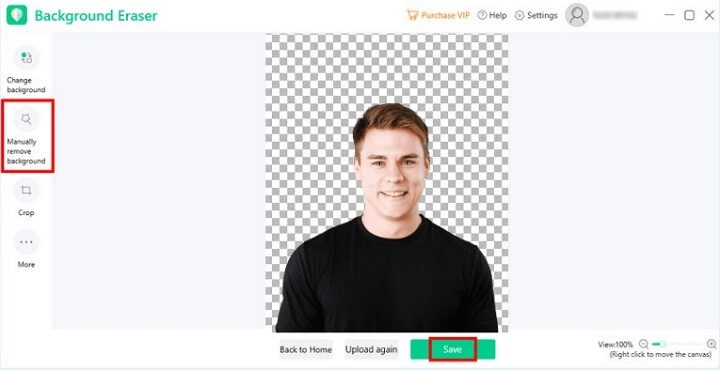 You can easily remove the image's background offline if you install the windows version on your pc. If you're looking to batch remove the image's background, then it's definitely for you.
Unfortunately, it comes with a price. They have different plans starting from $29.99 for 1000 images! However, they offer a trial version to test out its features. It will come in handy if you're only to erase a few images for a shorter time.
2. Leawo Photo BG Remover
If you're looking for a batch to remove in a shorter time, then Leawo Photo BG Remover is the ultimate platter for you. I am a fan of its clipping edge detection technology which effectively detects the edge and helps to keep every part of the foreground image.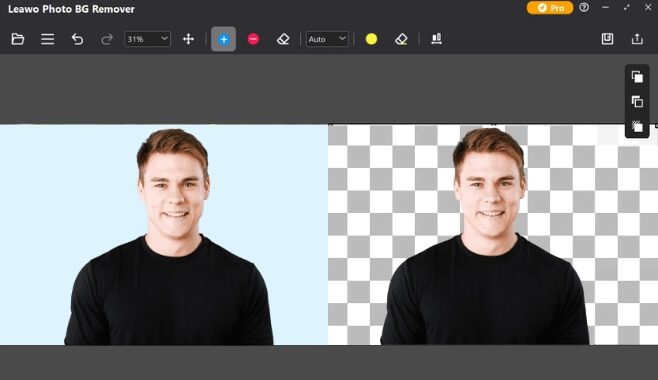 Moreover, its user-friendly interface lets you do the job seamlessly. Without any prior skill and experience, you can even put an astonishing background of your choice. They have a few background images, and also you can upload your own.
All the features come for only $29.95 for 1 year, and they don't put any restrictions on editing limits. If you're a professional and provide background removing service, you can buy it for lifetime! That will cost you only $39.95!
Key Features:
Batch background removing
User-friendly interface
Support all image formats
3. Picture Cutout
Picture Cutout is another background image remover software that automatically removes the background with just a single tap. You can easily install it in your windows and start using it right away!
With its Wide Edge technology and Paste Object tool, you can easily make a collage with different images. Besides, the smart patch tools help redefine your background smartly and efficiently.
The app comes with a one-time $45 payment. Besides, they provide the opportunity to test the features with a trial version of the software.
Best Background Image Remover Software for iPhones
Most of us are comfortable with smartphones nowadays rather than PCs. Let's look for some excellent background image remover software for iOS devices.
1. Magic Eraser Background
Magic Eraser Background is the best background remover app for iOS devices. With its excellent magic wand tool, you can instantly remove the background of any image. Select an area or color, and it will remove any similar area in the background.
It also features an automatic removing option. Upload your image from the gallery, and it will process it instantly. You can save the image in PNG format to make any further tuning in any other apps. Moreover, you can do some editing using the app.
2. SuperImpose
SuperImpose is a powerful app that combines multiple photos in one frame. You can easily remove the background of multiple photos and combine them like they're not apart from each other. It can do complex compositions without sweat, which professionals could only do.
You can erase the whole background or just a part of it using the masking tool. Besides, the magic lasso tool, similar to Adobe Photoshop's, easily marks the background surface so that you can remove it with ease.
With its advanced editing options, you can make your picture pop even more and make color adjustments as well. Not only that, but you can also add stylish text in your images too.
Best Background Image Remover Software for Android
If you own an android phone, you can look at these convenient mobile apps to remove the background of your image.
1. Ultimate Background Eraser
Ultimate background eraser is one of the best background image remover software for android. It comes with several removing options such as auto eraser, manual eraser, and lasso eraser.
With the auto eraser tool, the software itself detects the background and removes it automatically within seconds. Manual erasers allow you to erase the background by rubbing the background.
It's quite challenging; however, you will be a pro with a few days practice. And the lasso eraser works like the lasso tool of Adobe Photoshop. Select the area of the background, and boom! Your background is removed!
2. Background Eraser
If you love the simplicity and don't need any advanced editing, then Background Eraser by handyCloset is for you. It offers two different modes to remove the background – Auto mode and extract mode.
Auto mode will automatically detect the background and remove it accordingly, whereas extract mode allows you to do it manually.
It has the option to replace the background with another image or any solid color. Besides, you don't have to pay to use it. However, sometimes it may show you some ads.
Conclusion
All the background image remover software possesses different features. If you're doing it for fun or not on a regular basis, you will find online tools handy. It won't cost you a single dime.
If you're looking for a professional background removal service, then check out this service or contact us.
You can also use an Android or iOS app to edit on the go. On the other hand, if you're looking to batch edit, you can buy a premium subscription for your PC. That's worth the money, I bet!