Clutters, shadows, and unwanted objects in the background of a photo can ruin its beauty. Photo editing service providers can play a huge role by removing distracting elements from your photos. But, what are the best background removal service provider and Company you should be aware of?
Photo background removal service providers, both agencies and online tools, help to enhance pictures by getting rid of unwanted objects so that the subject gets clarity. So, let's find out the 13 best ones you should definitely consider.
Are you looking for a professional photo background removal service? The best option for you would be Clippingfly. You can find out more about our background removal service by visiting our service page.
Key Takeaways:
There are benefits you get from removing background from images.
There are free background remover services and companies you can use online.
Removing background from images using professional services is the best and easiest way to retain the image quality.
Benefit Of Background Removal
The reason for removing the background from an image is to accentuate the picture's subject. Using white and transparent backgrounds can create a simple and elegant look. But more importantly, it makes your product stand out, creating a stark contrast between it and the background.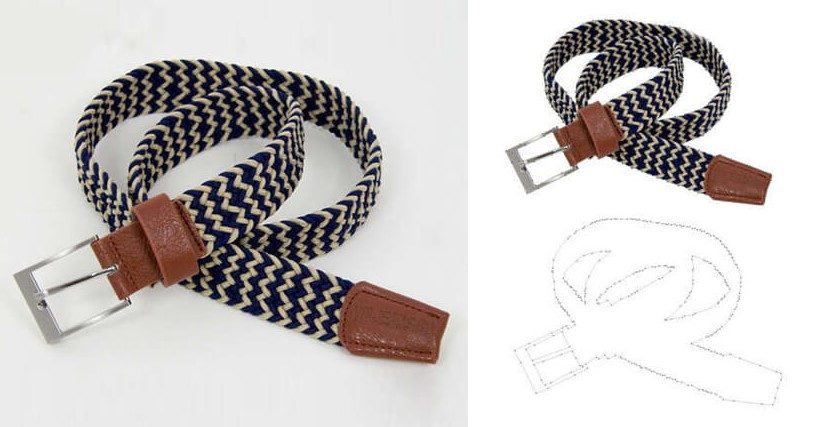 Keeping a clean background also helps tell a story that highlights important elements of your products. Here is some importance of removing background from a photo.
Enhance Your Customer Shopping Experience
Removing background from your photos personalizes your product imagery to enhance your customer's shopping experience. Besides, it provides you with a white background required for many marketplaces.
In addition, most customers make purchasing decisions based on what they can see. So, you must showcase the best images of your products without any background distraction.
This is where the importance of background removal service comes in. With removed background, you can get rid of distracting backgrounds and showcase your item on a simple white background so that customers can easily visualize what your products will look like in their homes.
This can increase your conversion rate more than you can ever imagine.
Remove Unwanted Objects From The Picture
The only thing you want in the background of your product image is a plain color that complements your item. That's all it should be.
But your photos may have boxes, cables, or stains in the background. Or perhaps some old, outdated items are in the background, making your image look outdated.
Therefore, you can use the background removal service to eliminate any clutter from your photo.
Swap Background
After your initial shoot, swapping out the background on your product photos enables you to use them for hundreds of other creatives, saving time and money.
All you just need is the service of any of the best background removal service providers.
It Makes Photos Stunning
Removing background from images is one of the most popular post-processing techniques for photos.
Background removal makes simple pictures look classy and professional. In addition, by removing the background photo, you can create a personalized look or a great image to focus on the subject matter.
What Is the Easiest Way to Remove the Background?
Hiring a professional to remove the background is always the best option, but this can be costly.
Making automatic corrections using apps or software is quick and easy but can often leave parts of the image poorly corrected if you are not experienced or skillful.
The easiest way to remove the image background is using photoshop. The software allows users to quickly get rid of image backgrounds in just a few clicks, making it painless and easy to use. Also, it's safe, free, and hassle-free.
However, you still need to know how to use the software. Learning how to use photoshop can take time, but with resources online, you can learn and know how to use it in days.
If you can't go through the stress of learning and editing photos yourself, getting someone to do it is the easiest thing then to do.
Different companies make life easier for anyone who wants to remove background from their photos. Clippingfly, remove.bg, clipping magic, and many more are good platforms for you to use. They make life easier when it comes to background removal.
How Do I Remove Background Without Losing Quality?
The Internet can be resourceful for learning new skills, and one of the most popular types of searches you can do is for how-to videos. Unfortunately, searching for "how to remove background from an image in Photoshop" turns up many results that don't teach the best methods.
It is hard to tell you a general method of removing background without losing quality. There are different methods to do it based on the kind of software or services you are using.
Removing background without losing quality differs from the method you will use with fotophire. However, to save yourself the stress, you should get the service of some background removal provider that makes it easy.
You have to pay for their service, and you can always expect the best from them. Also, some allow you to do the task yourself with an easy guide on doing it.
But as for me, and my experience with some of them, it is best that you allow them to do the removal. The success rate is so high that allowing them to remove the background.
13 Best Background Removal Service Provider and Company
You do not have to lose your breath on finding the right background removal service provider and company with all said above. We have a list of those you can consider with success rates.
What more can you expect from a company that delivers over 6000 images per day? With almost three years of background removal experience and millions of completed files, Clippingfly offers the best possible service at a great price.

Clippingfly is the best background remover service company in the USA, specializing in offering image clipping paths, image masking services, etc.
With years of experience, the company offers a wide range of photo editing applications, including clipping path, background removal, photo retouching, etc.
Years of experience, expertise, and extensive training have been brought together to form an elite team that provides individualized service on every project. From experience, Clippingfly is one of the fastest, easiest ways to remove backgrounds online, and the team is always ready to help.
You can use Clippingfly in a snap to cut out people or objects from photographs and save them as images, PowerPoint or Word documents, or as cartoons where the background is transparent. You can even add text to photos you've created.
In addition, you get to enjoy five free photo clipping services if you are using their service. If you need an affordable photo clipping service with high quality, fast delivery, and 100% satisfaction guaranteed, you can never get it wrong using their service.
Removal.ai
removal.ai is a high-quality service specializing in background removal, image editing, and overlay creation. With an understanding of what both the professional and home user needs, the company can deliver quality results quickly at an affordable price.

The company has experience in Real Estate Marketing, Architecture, Interior Design, Product Photography, Automotive, and Car Dealership, Graphic/Web Design services, and more for customization solutions.
Also, removal.ai has some of the best artificial intelligence for identifying and removing unwanted details from images.
Their technology removes the background from images, creates visually consistent backgrounds, and manages lighting conditions with any image.
If a customer needs a picture cleaned up or altered in ways other than just removing the background, removal.ai can do that.
Remove.bg
If you need a quality background removal service, Remove.bg is the right choice. With years of experience and dedicated professionals, Remove.bg can provide you with the best background removal services at the most affordable price.

The company provides:
Professional background remover services that help designers, photographers, e-commerce professionals, and anyone who finds themselves in need of removing backgrounds from images.
Due to the experience and performance of remove.bg, the company has been featured on some of the most popular sites and is still gaining recognition.
Clipping Magic
Clipping Magic is a service that removes backgrounds from images and a company that makes this technology available to the public. The company offers a cloud-based image and video clipping service that removes unwanted background images with great accuracy.
Clipping magic offers businesses and individuals an intuitive, easy-to-use solution for freely clipping, editing, and sharing images of people, cars, text, and other unsupportive objects.
With the company's service, you can remove background from digital photographs, change your skin color, and make other edits to image files.
The digital image editing service saves you time and money and helps you remove unwanted elements from all of your pictures.
Above all, the clipping magic offers the fastest, most accurate way to remove backgrounds from photos. Furthermore, with their advanced image recognition technology, there is no more tedious manual labor with layers and masks. Instead, you can simply send your images and let them do all the hard work.
Photoscissors
Photoscissors offer the easiest online image editing experience and unlimited results for people to remove backgrounds from photos.
So, whether you are looking for a creative and unique gift or just a simple background removal solution, Photoscissors is an online photo editor with no limits.

You can remove all kinds of backgrounds in one photo with just two simple steps: upload your photo and remove your background. Also, you can take advantage of their many value options and save even more money by getting any (or every) service at a low discount price.
So, photoscissors is one of the best and easiest to use background removal tools on the web. You can get the best from them and be assured of 100 percent satisfaction.
Fotor
Fotor is an online platform that offers photo editing services, collages, and personalized product creation to improve your photography workflow. It is an effective and quick application to remove the backgrounds from photos.

You can choose to ignore any part of the image or remove the whole thing with it. It uses advanced image analysis technology to remove objects rather than setting heuristic decision thresholds for the user.
It makes it very easy to use but with deep and powerful functionality that removes even the most challenging backgrounds. Also, Fotor's unique features and algorithms provide superior performance without slowing down your computer.
Autoclipping
Autoclipping is a unique Photoshop service for removing backgrounds from images. The background removal services are available for integration with various applications.
The highly skilled teams of Photoshop editors have exactly the right tools and techniques to achieve your background removal goals.

The powerful yet easy-to-use interface enables anybody, even novices, to quickly and effortlessly remove the background from any image, no matter how challenging.
With that being said, auto clipping is the company you need if you are looking for professional service when it comes to removing backgrounds from images, photos, paintings, and any other graphical material.
Imageresizer
imageresizer is the smartest and simplest online photo editor to resize, crop, rotate and remove backgrounds.
Whether you are looking to optimize a background-free image, resize your banner ads for Google AdWords, or even apply template-based effects to an entire set of images, ImageResizer has been designed to make it easy for anyone.

It is one of the top solutions to all your background removing needs. The online platform has developed some of the most innovative software that removes the background and allows processing in different color schemes.
The advanced image processing techniques supported by imageresizer make it possible to remove the unwanted parts of an image accurately without affecting its originality. Plus, it is all free.
Pixomatic
Pixomatic is a one-stop-shop for everything. The revolutionary service starts with a wide selection of programs to meet your needs.
Besides, it offers a free trial to all prospective customers to glimpse what they will enjoy with the company service.

From experience with the company, you get to enjoy services such as background removal, replacement of background from an image, removing unwanted parts of an image, providing a new and clean image with required background for editing, and designing for any business purpose and personal purpose.
These services are useful for product designers, eCommerce websites, and other portals.
Editphotosforfree
Editphotosforfree is a service where you can remove the background from your photos fast and simply. With the advanced software, you can remove background from photos or pictures and get your image back in the shortest time possible.

Also, it has a smooth interface and simple instructions, making it perfect for anyone to use, whether they are new to using photo editing software or have been using such programs their entire life.
Pixcut wondershare
Stop searching for someone who can remove and edit images on a personal level because pixcut is the company you are looking for. With the best background remover service, you get editing services, including removing backgrounds.

The company has a good interface that makes it easy for anyone to use. The services you get from them go beyond background removal, making it a go-to place for designers.
Also, you get to do some things there freely but with limitations. Once you pay for their service, you get added value, and the price is quite affordable.
Cutout
Cutout is the easiest way to remove backgrounds from your photos. The platform completely removes backgrounds from pictures.
So save time editing pictures and focus instead on the picture itself. The background removal services will make your work look fantastic without spending the time to do it yourself.

The platform is such a good one to use for anyone. You can work on thousands of images without losing out on the quality for each. Furthermore, you get more than just background removal from the company as you get access to other services such as photo anime, enhancer, color correction, colorizer, and many more.
Backgroundremover.net
Background remover is one of the simple, easiest, and free platforms to remove background from any image. Anyone can use this service even without prior knowledge on removing background from images.
You need to select the image where you saved it on your PC, click on the button that says remove background, and sit back while the software technology removes the background. Then, you can view it after it is complete and download your work.
Conclusion
With numerous lists of background removal services and companies, one is likely to make the wrong choice. So, we used this medium to share the 13 Best background removal service provider and Company you can consider in the market.
Do you want a professional photo background removal service? Clippingflay would be your best choice. Just check out our background removal service for more information.
We have the list based on personal experience and review, and we do hope you find every piece on this page informative.